The key to connecting with donors and inspiring loyalty to your mission is understanding what drives donors to give and speaking to their motivations. With a well-developed direct response fundraising strategy, you can guide current and prospective donors to give their time, effort, and funds to your nonprofit's cause.
Direct mail fundraising should be an integral part of your direct response strategy. When leveraged with other communication channels, direct mail can generate a significant amount of engagement and gift-giving from donors. Direct mail fundraising can also feel more personal for donors, especially when concepts and strategies align with donor preferences.
This guide will walk through the basics of direct mail fundraising for nonprofits and how to launch a direct mail campaign, covering the following questions:
Putting together an effective direct mail fundraising campaign requires a significant amount of time and effort. For example, you need to research your nonprofit's current marketing position, identify key audiences, develop creative concepts, and print the mailers you need. Because this process can be so extensive, it's best to partner with a team of experienced marketing experts when launching a new direct mail program.
Let's get started.

What is direct mail fundraising?
Direct mail fundraising, sometimes called direct mail solicitation or direct marketing, is the process of mailing requests for support to existing and prospective donors.
While it is a common misconception that direct mail is ineffective and gets tossed out, donors actually are more likely to open and engage with direct mail than email. Direct mail also gives your supporters a physical object connecting them to your organization that may remind them to make another gift in the future.
What does the direct mail fundraising process look like?
Designing a direct mail fundraising campaign involves many moving parts, from conducting intensive donor data research to enlisting marketing strategists that will develop messaging frameworks and concepts. Partnering with a qualified agency with years of experience can help you manage these various parts and form a cohesive, high-quality direct response fundraiser.
Let's take a closer look at each stage of designing a direct mail campaign.
1. Research and exploration.
The first step in creating any marketing campaign is to conduct preliminary research that investigates and explores data about your organization's current audience and past campaigns.
For example, Pursuant's team leverages the power of its data analytics platform GivingDNA to learn more about:
Existing donors. Gain a deeper understanding of your nonprofit's current donors to better understand why they give—in other words, get familiar with their "giving DNA." Take stock of

social media

followers, event attendees, volunteers, and your most dedicated advocates and ambassadors. After assessing how these donors already interact with your nonprofit, you can build a target donor profile based on demographics, psychographics, giving habits, and preferred communication channels.


The market landscape. Conduct research about your organization's specific market, working to identify marketwide consumer and technology trends. If you run an animal shelter, most people likely give to peer organizations because they want to support the cute animals that wind up there. In this case, look for an appeal you can use in your direct response fundraiser that sets you apart, like highlighting unique programs your organization offers. Your team can also analyze each geographic market, investigating the awareness of and affinity for your nonprofit in specific states and regions.


Peer organizations. Analyzing peer organizations can help you identify your peers' strengths and weaknesses, compare them to yours, and find opportunities to differentiate your organization. As a nonprofit organization, you'll want to dig into why their constituents are motivated to give and how much of your market they occupy. If you find constituents who support a cause similar to yours highly value transparency and community-driven outreach, you'll want to differentiate your nonprofit by highlighting those qualities in the direct mail you send out during your campaign.
This initial phase of research can give you and your agency a better idea of what your organization is working with, what the broader market of supporters value, and how you can stand out against peer organizations. Once you have a deep understanding of your position in the market, you can begin outlining specific focus areas that will shape your direct mail campaign's message.
2. Identify and define specific parameters.
After completing the research phase, you'll work with your agency to identify clear key audiences, define the campaign's goals, and build frameworks for tracking its performance.
In order to identify a target audience for your direct response campaign, you'll need to dig deeper with your research. Take a closer look at both your existing supporters as well as how the general population interacts with similar organizations to identify their motivations for giving. Then, pair those motivations with demographic descriptors to paint a more detailed picture of the audience your direct mail fundraising efforts will target.
Here are a few activities to consider completing during this step:
Performing motivation-based research
Conducting a marketing opportunity analysis
Gathering missed connection insights
When your nonprofit has a deep understanding of its donors' affinity for your cause, it can create messages that pinpoint the specific reasons they support your cause. You can use insights from the motivation-based research to create donor personas—or an archetype of your ideal donor that defines their basic characteristics like demographics, preferences, and attitudes.
Once you've gathered and interpreted these data points, use the audience profiles and market opportunities to structure early concepts for your direct mail campaign. Continue to use this data to justify the decisions you make for the campaign.
3. Develop concrete strategies.
After performing extensive research and organizing your findings, you and your direct response fundraising agency can begin brainstorming potential concepts for the campaign. Start by mapping the journey your supporters follow when engaging with your organization. Map their first touchpoint or exposure to your nonprofit (which is often a visit to your website), all the way to the step when they make a donation. Within those steps, look for gaps in the journey where potential supporters might not make the next step in their journey.
These gaps can help you spot opportunities to leverage the power of direct mail fundraising to recapture prospective and current donors who may have strayed from your nonprofit. A personalized, engaging campaign can also deepen relationships with supporters who are already passionate about your cause. Intertwining what you know about your audience and their giving journey with strategy and creative executions can create an impactful and effective campaign.
Consider incorporating these strategies into your preliminary concepts for the campaign:
Leverage storytelling. Direct mail should feel personal—your organization took the time to have something delivered directly to your donors' homes. Take advantage of that

personal touch

by adding a story designed to strengthen your connection with donors even more. Choose a real story that is highly relevant to your cause, adding illustrative details that make it come to life on the page. Make sure to highlight the specific ways that each donor can personally make a difference in the context of the story.


Choose impactful visual elements. While visuals are often used to capture the recipient's attention, your primary goal should be to connect the visual aspects of the mailer to the message in your copy. When selecting an image, choose one that represents your cause or aligns with the story you tell in a powerful way. Additionally, make sure to include other graphic elements, such as color and icons, that will help guide each viewer's eye across the page to the main focus—ideally, your appeal should stand out visually.


Link your direct mail and online fundraising campaigns. There are so many channels donors can use to engage with your organization, but digital media channels are one of the most popular. Provide a way for donors to find and engage with your online fundraising campaigns through direct mail to encourage more involvement and introduce them to another touchpoint. Consider including your website's web address or a QR code linking to your site or donation page on the mailer.
As you begin transforming small, abstract ideas into concrete first drafts, continuously check in with your audience research. Identify any major changes that come up if they have the potential to impact the campaign's success. To confirm that your strategies are effective and align with your audience's preferences, conduct tests with members of your target audience, measuring brand awareness and likelihood to support your cause.
4. Finalize the concept design.
The final step in the planning process is to choose winning concepts and refine and finalize them. Data comes in handy again at this step. Use the data you've gathered along the way to narrow down your most effective concepts and messaging strategies.
Next, you'll prioritize the best ways to implement the overarching concept or message in your direct mail campaign. Use the past performance of similar concepts as a predictor of your new strategies' success.
Another way to determine which strategies will be the most impactful is to organize a breakthrough workshop. In this workshop, ask yourself if the concepts address key areas of concern for your target audience.
For example, does the concept highlight your organization's general mission or cause? Does it help fulfill your organization's overarching goals? Do your direct mail appeals lead your audience to take a specific action to meet those goals? Asking these questions ensures that you choose a concept that works for both your audience and your organization.
As you finalize your concepts and refine creative executions, begin drafting a specific timeline and implementation plan for the campaign. This plan is where your research, goals, task assignments, and resource allocation guidelines will live. Use this plan to guide the entire direct response campaign, helping keep everyone on the same page and making the campaign run smoothly.
Should you partner with a direct response fundraising agency?
Marketing is crucial to expanding your nonprofit and reaching the ambitious goals you have for your organization. However, your campaign will be at its most effective when a deep knowledge of your donors is coupled with marketing expertise.
Think of a direct response fundraising agency as an extension of your team that will align your knowledge and passion for your cause with data analytics and effective marketing strategies.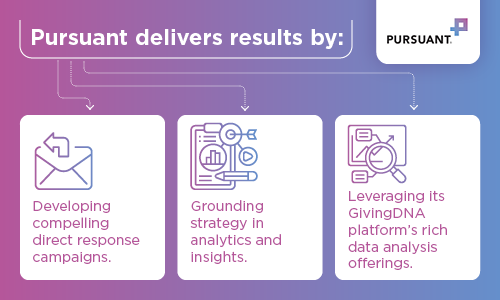 Pursuant is a full-service nonprofit marketing and fundraising agency that exclusively serves the nonprofit sector, giving its team of experts an intimate understanding of the ins and outs of your industry. With over 20 years of experience, Pursuant is equipped to help your team build a direct mail strategy that will lead to the results your organization needs to further its mission.
While Pursuant is highly skilled in delivering effective direct mail campaigns, our offerings don't stop there. We can help your nonprofit succeed in many areas, including:
Direct response digital marketing
Digital media
Annual fund
Mid-level and upgrade opportunities
All of these services are powered by impactful data analytics and insights like motivation-based research, strategic engagement, and personalized segmentation. Pursuant also leverages its data analytics platform GivingDNA to identify your nonprofit's most valuable donors, helping you tailor your strategy to align with their motivations.
Wrapping Up
Direct mail is one of the most effective ways to market your cause to both new and existing donors, adding a personalized touch to your direct response fundraising campaign. Effective planning and a deep dive into your donors' giving motivations, lifestyles, and demographic information will help you develop concepts for your campaign that inspire your donors to make long-term contributions.
Working with an experienced agency can help your team maximize its success by pairing important insights about your audience and market with the devotion you have to your mission.